Annapolis, Anne Arundel & Prince Georges County MD
Full Lawn & Landscape Services • Residential & Commercial • Design • Installation • Maintenance
Residential & Commercial Patio Paver Landscaping Design & Maintenance & Deck Contractor of 20 Years
Garcia Patios and Landscaping, Inc. is an Edgewater Maryland residential and commercial landscaping maintenance, landscape design, patio paver, maintenance-free vinyl deck and hardscape design installation contractor who also specializes in interlocking concrete, stone, brick or flagstone pavers for driveways, patios, pool decks, walkways, sidewalks, masonry, stonework, fire pits, fireplaces, retaining walls, outdoor kitchens, waterfalls, ponds or pools as well as landscape maintenance, hardscaping, retaining walls, stonework and masonry work, and custom, maintenance-free decks stairways, stair rails and railing.  Our clients are located in Anne Arundel County, Prince Georges County or Queen Anne's County Maryland areas.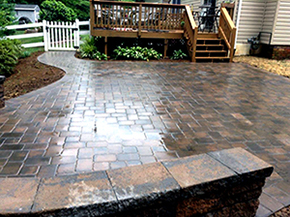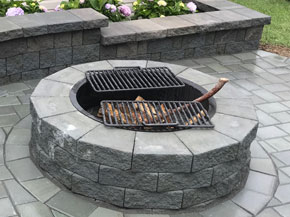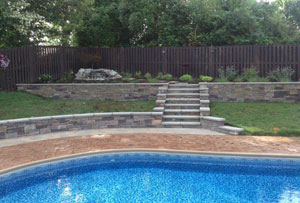 Why Choose Us
At Garcia Patios and Landscaping, Inc. our main objective is to provide the homeowner or business owner the following:
Superior service and more attention to detail than your average home improvement contractor
20 years of experience in the landscaping, deck design and hardscaping industry
Our owner works directly with you on your project
We stand behind our work while using the best quality products such as Belgard and EP Henry.  We concentrate on your job until completed to your complete satisfaction.
Whether you are interested in a new beautiful paver patio, low maintenance deck, driveway, pool deck, landscape design, landscaping or landscape maintenance in the Anne Arundel County Prince Georges County or Queen Anne's County Maryland areas Garcia Patios and Landscaping will surpass your expectations.
Garcia Landscaping Reviews and Customer Comments
J. Lewis
September 9, 2019
Edgewater, MD - Project: Backyard Patio
"Garcia Patios provided comprehensive and professional services. They worked with us to design a back yard patio; to submit the plans for home owner's association approval; and complete the project. When issues came up, Mr. Garcia worked with us to resolve them to our satisfaction. Without hesitation, they are recommended for your patio projects."
S. Sapirie
August 5, 2019
Annapolis, MD
"The landscaping work was done as scheduled, in less than one day and fully satisfactorily."
Dennis T. - Home Advisor Review
August 5 2019
Glen Burnie, MD -- Project: Landscape Yard or Gardens
"Super friendly staff. Hard workers that produce top notch quality for a reasonable price. I would hire them again."
Jimmy O. - Home Advisor Review
August 2, 2019
Davidsonville, MD -- Project: Install a Retaining Wall
"Quote literally came in at half that of other highly rated companies on Angie s list. Still, Garcia and crew delivered high quality work with an amazingly friendly staff and high quality work. They took care of the little details and even handled some tangential items not in the scope of the work order, just because it would look nice. The scope of the project was larger than anticipated, but Garcia did not stray from the initial quote. Finally, but not to be understated, they took a large scale construction project on short notice, finished on time, and met a major time hack requirement that I had. I would recommend Garcia and crew to anyone."
Zina B. - Home Advisor Review
July 17 2019
District Heights, MD -- Project: Install Brick or Stone Patios, Walks, and Steps
"They did a really great job. I would recommend them for future jobs. "
Dan S. - Home Advisor Review
July 15, 2019
Pasadena, MD -- Project: Landscape Yard or Gardens.
" I felt they did not send enough employees to perform the work they were hired to do, and the 2 employees that was sent one of them had a side job to do and rushed my job to the point that it was not professionally completed. The grass seed they put down was for of weeds and not good quality."
Raymond L. - Home Advisor Review
July 9, 2019
Severna Park, MD -- Project: Install a Retaining Wall.
"The job of replacing a 40-year old retaining wall was a challenging one. It was done very professionally and I am more than satisfied with the new wall."
Ann-marie K. - Home Advisor Review
July 9, 2019
Severna Park, MD -- Project: Landscape Yard or Gardens
"Great team, hard workers, and very responsive. The price was almost double, but they did meet my shortened deadline because the other contractor couldn't deliver. I would give them a chance again, and imagine they would be more competitive with a longer lead time."
Denise M. - Home Advisor Review
July 9, 2019
Bowie, MD -- Project: Landscape Yard or Gardens.
"They are efficient, flexible and reliable. They showed up on time and completed the job as stated in the contract. I am extremely satisfied with the quality of work with the building of my patio and the surrounding landscape. I will use them again."
Jean I. - Home Advisor Review
April 3 2019
Severna Park, MD -- Project: Landscape Yard or Gardens.
"Excellent workers! Did a fantastic job! They did above and beyond my expectation, I would highly recommend this company to everyone ! "
J Mumper
December 10, 2018
Annapolis, MD
"After working with other landscaping companies and waiting long periods of time for their estimates, we asked Garcia Landscaping to estimate replacing our deteriorating wood retaining wall with a masonry stone. Mr Garcia arrived as scheduled and we had his estimate within a day at a fair price. We could not believe how hard they worked, completing the work on schedule. Their workmanship is superb with attention to detail. We recommend Garcia Landscaping highly. We could not be happier with their workmanship."
J. Sames
October 15, 2018
Edgewater, MD
"Thank you so much for a job well done! I couldn't be more pleased with my new driveway and sidewalk! You and your crew displayed exemplary professionalism. You started the job promptly and finished the job promptly. The crew you sent out were nothing short of amazing! Hard working, meticulous attention to detail, polite and dedicated! What a fantastic organization you have! I would be confident and proud to recommend your company for services!"
Katie H. - Google Review
March 15, 2018
Anne Arundel MD
"Extremely talented workers. We are so happy with the patio they installed over the summer. It is beautiful. The price was the best we found in the area. Highly recommended."
Igor Puchtel
November 17, 2017
Elkridge, MD
"This is a great company. They have completed two projects for me, (1) installation of a retaining wall and (2) installation of a concrete parking pad and a ramp to the garage. Both jobs were carried out at a very high professional level, in a timely manner, at a very reasonable cost, and were worth every penny that I paid for them. The crew is fantastic, they do everything very thoroughly and skillfully, are very friendly and open to suggestions and discussion as to how to do things best to everybody's satisfaction. Communication is a breeze, everything can be discussed via email and phone. This company became my absolute favorite in home improvement - will definitely call on them next time I start a new project. Thanks a lot!"
J. Colabella
September 14, 2017
Chester, MD
"The entire team, from Mr. Garcia to the office staff to the workmen, were incredible to work with. The work was done flawlessly, quickly and affordably. We LOVE our new patio!"
Jim & Donna Sadler
August 30, 2017
Davidsonville, MD
"I have used Garcia Patios and Landscaping for several years and the crew is absolutely awesome. They are very professional and very customer focus. They have done a super job in my yard and I would recommend them to anyone who wants a class A-1 job."
C. Starr
August 1, 2017
Annapolis, MD
"Mr. Garcia, his office staff and workers were all friendly, professional, very skilled and completed the job in a very short time - Our patio and fire pit are gorgeous !!! We highly recommend this company !!!! Thank you so much..."
Curtis Johnson
October 12, 2016
Odenton, MD
"Great job, Great Service, Customer focused and knowledgeable! Prompt in coming out giving an estimate, meets all your requirements and timely in their actions. I recommend to all. I will be a repeat customer in the future!"
D. Bailey
August 4, 2016
Edgewater, MD
"I just wanted to take a moment and pass on how thrilled my wife and I are with the new stone wall, plants and the resurfacing of our concrete steps. We so very much appreciate the craftsmanship and professionalism that was exhibited throughout the completion of this job. We are even more pleased with how hands off for my wife and I this project was once we contacted Garcia Patios and Landscaping and that is very important to us as we both are working full time. I will certainly pass on my highest recommendations for Garcia Landscaping to all my friends and co-workers."
P. Segal
June 2016
Annapolis, MD
"We are thrilled with our patio and landscaping job done by Garcia Patios & Landscape! We worked with Mr. Garcia on the design of the patio and he made sure to give us assistance and guidance in making sure we got what we wanted. We are thrilled with the workmanship and the skills of the crews that worked on our patio and landscaping. Everyone from Mr. Garcia, to the crew to Ginger were wonderful to work with and we would recommend them to anyone. Thank you for giving us the outdoor living space we wanted."
Tomek J
August 2015
Edgewater, MD
"Good group of guys. They worked very hard and the results were amazing."
Timothy Coe
May 2015
Anne Arundel, MD
"What a great job that was done in my yard, Thanks a ton!"
K. Stevens
April 2014
Anne Arundel, MD
"Garcia Landscaping does an exceptional level of quality in there designs and craftsmanship! They do there jobs in a timely fashion as well. I have neighbors and friends that have used Garcia and they are very pleased with the outcome!"